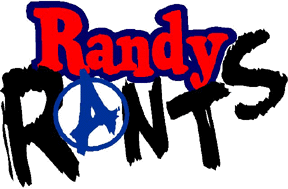 Here is a convenient menu of previous
Randy Rants for you to enjoy!
Rant #41: 2008: A YEAR FOR ARROW
Rant #40: Random Market Rants
Rant #39: Where the Hell have I been?!?
Rant #38: Midsummer Night's Stream of Thought
Rant #37: We're Kidding Ourselves
Rant #36: Will Eisner is Dead
Rant #35: Nitpicks and Nitwits
Rant #34: "Mainstream" Musings
Rant #33: Ho Hum
Rant #32: 2003: The Was That Year
Rant #31: When You're Done Laughing
Rant #30: Black Boxing
Rant #29: Medium Observations
Rant #28: Little Bits of Rantiness
Rant #27: For the Love of Comics: It's Time to Deprogram
Rant #26: Reactions and Ramblings
Rant #25: All My (Super)Heroes Are Dead
Rant #24: Where Have All the Black and Whites Gone?
Rant #23: Comic News and Abuse
Rant #22: Impressions: SD Con 2002
Rant #21: Cause for Celebration
Rant #20: Superman and Sacrilege
Rant #19: More Random Rantiness
Rant #18: We May Have Already Lost
Rant #17: American "Justice"
Rant #16: Confessions of a Comic Book Geek
Rant #15: Vacation's Over
Rant #14: 9-1-1-R-A-N-T
Rant #13: Miscellaneous Media Rant(s)
Rant #12: What I Did Over Summer Vacation
Rant #11: Pussified Shrooms
Rant #10: The Year From Hell
Rant #9: Time to Get United!
Rant #8: Funeral For A Friend
Rant #7: Of Lemmings and Idiots
Rant #6: Problem
Rant #5: Random Acts of Rantness
Rant #4: A Salute
Rant #3: Circles and Raves
Rant #2: Who We Are...
Rant #1: The Other Side of The Road (To Zombieopolis)
Home | Rants | Webstrips | Marketplace | History |